Technical Writing Specialists
Our technical writing services save you time, money, revisions, and failed presentations
Our results-oriented technical writing services are professional, created with your audience as the primary consideration. We use sophisticated layouts, state-of-the-art technical authoring software and appealing graphics.
What we create must make sense and it must be reasonable. While this seems to be an obvious standard, it is one that is often ignored.
Most importantly, we believe that critical thinking, creativity and thinking outside the box are imperative… We believe in logitivity.
We make content engaging—even if it is a description of a flywheel assembly. Not all content can be made scintillating but usually the presentation of it can be interesting. We try to ensure that the reader will actually read the documentation—that the way the content is presented will encourage them to continue reading.
Southwest Business Services has provided remote technical writing services for more than 30 years. We have long been committed to providing highly professional, due-diligent technical writing services–at an affordable price. These services now include information security technical writing.
STE AND EINSTEIN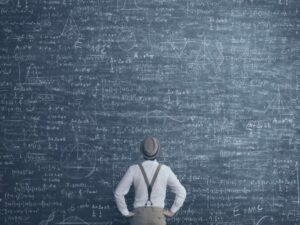 "Everything should be made as simple as possible, but no simpler." – Albert Einstein

Einstein would have liked STE and the STE Writing Rules. He knew that clarity is often sacrificed for complexity. But he also knew that there is a limit to how far things can be simplified. Our blog series on the STE Writing Rules will be on how to use those rules to make what we write as simple as possible but no simpler.
But he could not have anticipated the technological innovation or medical advancements or discoveries in physics that have occurred in the last century. While terms such as prenucleation can be mentioned in sentences that are easily understood, the simple fact is that the explanation of a term like that is as complex as the word itself.
SIMPLIFYING TECHNICAL ENGLISH
STE AND TECHNICAL MANUALS
"Simplified Technical English, STE, was developed to help the readers of English-language documentation understand what they read, particularly when these readers are non-native English speakers." – ASD-STE100
Becoming compliant with Simplified Technical English (STE) standards can create clear, unambiguous text that defies misinterpretation, promotes safety and reduces costs . Becoming compliant can also be difficult and time-consuming because of the STE structure. Online STE checkers can provide direction but the simple fact is that they cannot do the actual conversion work: No STE checker exists that will automatically convert regular text into STE-compliant text. That is why we offer professional STE consulting, conversion and translation services that transform your text into simplified technical English.
We can create illustrated (or not illustrated) technical manuals that are engaging and easily understood–even in simplified technical English. Your audience will actually read and absorb the material–even complex material.
Our expertise includes compliance, quality assurance, industrial and government manuals.
Featured Service: Case Studies
Our case studies are informative and engaging. We can assume full responsibility for design, layout and content. Business use cases are another service that we provide and ours are sophisticated and persuasive. They run the gamut from software development use cases to marketing use cases. Read more about our case studies and business use studies here.
Contact us to find out more about these services.
The next decade will usher in a new paradigm, created in no small part by the COVID pandemic and a shift to remote work as the new normal. Creation of remote work operational guidelines with which both employees and management are comfortable is not a luxury but an imperative for continued success.
Read the rest of this case study here.
Standard Work
Case study sample of an STE transformation of Company policies and procedures to standard work documentation. The transformation resulted in increased productivity and improved employee engagement.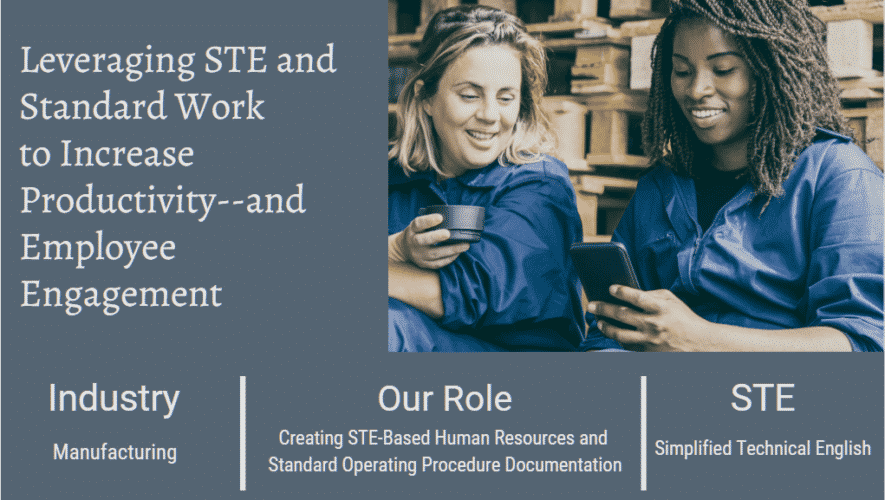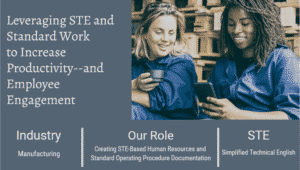 Leveraging STE
Case study sample of a Simplified Technical English (STE) conversion intended to remove the archaic wording and make the text easier to translate and understand. The transformation resulted in reduced cost and better translations.
Technical Writing Services
Business Case Studies and Use Cases
BUSINESS CASE STUDIES
Online Business Case Studies
Product Case Studies
Business Use Cases
Business Process Use Cases
Product Use Cases
Software Use Cases
Subject Matter Expert
Technical Writing Services
TECHNICAL REPORT WRITING
TECHNICAL COPYWRITING
ONLINE MANUALS
TECHNICAL PRODUCT MANUALS
STE Technical Writing
Technical Instruction Manuals
E-Books
Content Management Systems
Business Writing Services
STANDARD OF WORK SOPs
Employee Manuals and Handbooks, Job Descriptions
Marketing and Product Brochures
Corporate Reports
Annual and Periodic Reports
Data Analysis Reporting
Feasibility Studies
Featured:
SOPs Standard Operating Procedures
Standard operating procedures are–or should be–an integral part of most operations. They are explicit instructions that describe what to do in a specific situation. Some SOPs can be common to most businesses–COVID, data security or remote work. But most standard operating procedures are not cookie cutter, one-size-fits-all documents. Franchises can issue SOPs with the same content that all appy to all franchisees. But it is unlikely that there is an existing standard operating procedure to cover the machining of your proprietary part that has just been patented. One company may need more datasecurity standard operating procedures than another that requires more OSHA-compliant standard operating procedures.
We create custom SOPs Standard Operating Procedures for business of all sizes. State of the art formatting is used to create actionable, useful documentation.
Contact us and we will show you that it is in fact easier to proactively develop a plan rather than to react to a disaster. Get a free consultation and one potential scenario for your business.